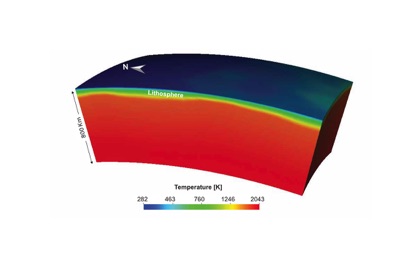 The scientific interests of the Geodesy and Tectonophysics Laboratory (GTL) in the Department of Geosciences at Virginia Tech involve elucidating the physical processes that initiate, maintain, and evolve plate tectonics. The interaction of tectonic plate can result in devastating volcanic eruptions and earthquakes, implications of which my research can have immediate and long-term impacts to mitigate hazards. Currentling GTL research addresses these topics by investigating four fundamental questions:
1) How and where is strain accommodated during active tectonics?
2) What balance of forces drive surface deformation from tectonic processes?
3) What are the feedback mechanisms between tectonic deformation, volcanism, and active
seismicity towards a more resilient society?
(4) What are the physical mechanisms driving vertical land motions in regions affected by sea-level
rise?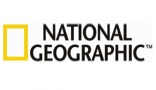 GTL student Tahiry Rajaonarison studies asthenosphere- lithosphere interactions in continental rift settings, specifically in Madagascar and the Kenya rift. In order to study the asthenosphere-lithosphere interaction, he uses the NSF CIG community code ASPECT. He is able to create 3D models of a regional mantle flow with two distinct independent initial temperature conditions. This is the first 3D regional the edge-driven convection model developed with ASPECT, which is driven temperature perturbations that arise from variations of lithospheric thickness. The second is a convection model he developed with ASPECT that is based on the conversion of a shear wave velocity model into temperature, which generates buoyancy due to temperature anomalies. In order to validate the mantle flow fields, we compare them with independent observations such as GPS velocity and seismic anisotropy.
WHAT IS THE ROLE OF UPPER MANTLE FLOW ON LITHOSPHERIC DEFORMATION?
WHAT IS THE ROLE OF MAGMA-TECTONIC INTERACTIONS DURING EARLY RIFTING?
Our student Josh Jones has completed a project on paper/project that shows (1) volcanic and tectonic activity interact at multiple stages in rift initiation with instances of promoting and/or coinciding with future rifting events and (2) small stress perturbations induced by volcanic activity may drive slip on a week or critical border fault during continental rift initiation. He is now funded by the NSF EarthCube Building Black CHORDS to improve data storage and distribution for real time volcano-tectonic signals for long term implementation and the study of continental rift initiation processes.
REDEFINING THE SOMALIAN PLATE
Evidence from geologic mapping as well as Quaternary volcanism and sedimentation indicate Madagascar is tectonically active. We are now using GNSS data collected over up to 10 years to investigate if Madagascar is breaking up. Or is Madagascar moving with the Somalian plate?
AT WHAT TIME-SCALE DOES VOLCANIC DEFORMATION PROMOTE FEEDBACK BETWEEN VOLCANIC AND FAULT SLIP?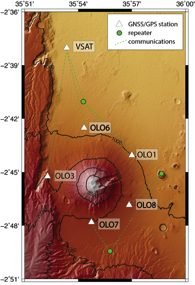 COLLABORATIONS AND AFFILIATIONS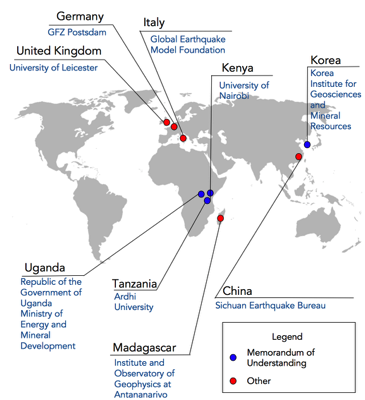 We designed an experiment to test the interactions of movements on the Natron Fault with OLO3 and deformation at the volcano (OLO1, OLO6, OLO7, OLO8). Recent earthquakes, increased ash emissions, an ever widening crack at the top of the volcano, and possible signals of offsets at OLO1 spawned an expansion of the network in May 2017 that was partly funded by the National Geographic Society.
LITHOSPHERE-ASTHENOSPHERE INTERACTIONS AND LITHOSPHERE DYNAMICS USING MODERN CYBERINFRASTRUCTURE
We aim to test lithosphere-asthenosphere interactions and lithospheric dynamics with new EarthCube cyberinfrastructure called BALTO (Brokered Alignment of Long-Tail Observations. We will access a suite seismic tomography and other models from IRIS to use as initial conditions in geodynamic models run with ASPECT. Model output will be compared with independent observations to improve our understanding of lithospheric processes.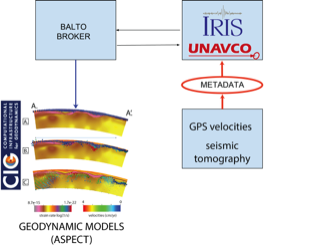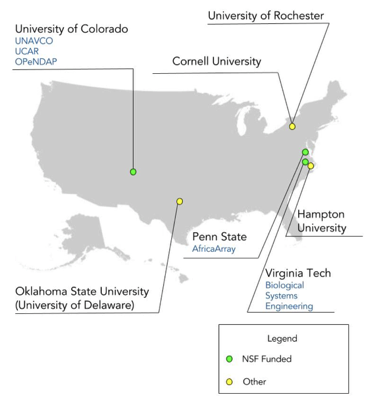 Example undergraduate projects 1) test fault geometry models for recent earthquakes, 2) test properties of rifts needed to explain previous earthquakes on local structures, 3) implemenet modern tools for cyberinfrastructure development to evaluate edge-driven convection material paramaters, and 4) development of transient detection algorithms.
Sea-level rise is a critical process creating hazards on Earth's population. Quantifying vertical land motions in regions experiencing effects from sea-level rise remains an important topic towards resilience to the effects of sea-level rise. We are embarking upon a kinematic and geodynamic study of the Chesapeake Bay of the North American Atlantic Coast in collaboration with the USGS and NOAA to (1) characterize vertical land motion with millimeter precision and (2) conduct numerical modeling to decipher the signals (fingerprints) that comprise the vertical land motions using a newly funded USGS grant (co-PI).
QUANTIFYING AND ASSESSING VERTICAL LAND MOTIONS IN THE CHESAPEAKE BAY